Whether or not you have $3,000 to spend on a laptop, you have to respect Asus for what it has come up with.
The Asus Zenbook Pro Duo 15 OLED UX582 has two touchscreens, including a 4K OLED screen in the usual location and a narrower OLED screen just above the keyboard. It's also a beast of a machine, with an Intel Core i9-10980HK processor, Nvidia GeForce RTX 3070 GPU and 32GB of RAM.
You may dismiss the Zenbook Pro Duo as a gimmick, but Asus has been doing the dual-screen notebook dance since 2019. The UX582 improves on both the design of the original model and the second screen software. Asus is clearly committed to this concept and while it's not for everyone, it offers real utility for content creators with a few thousand to burn.
Tech Specs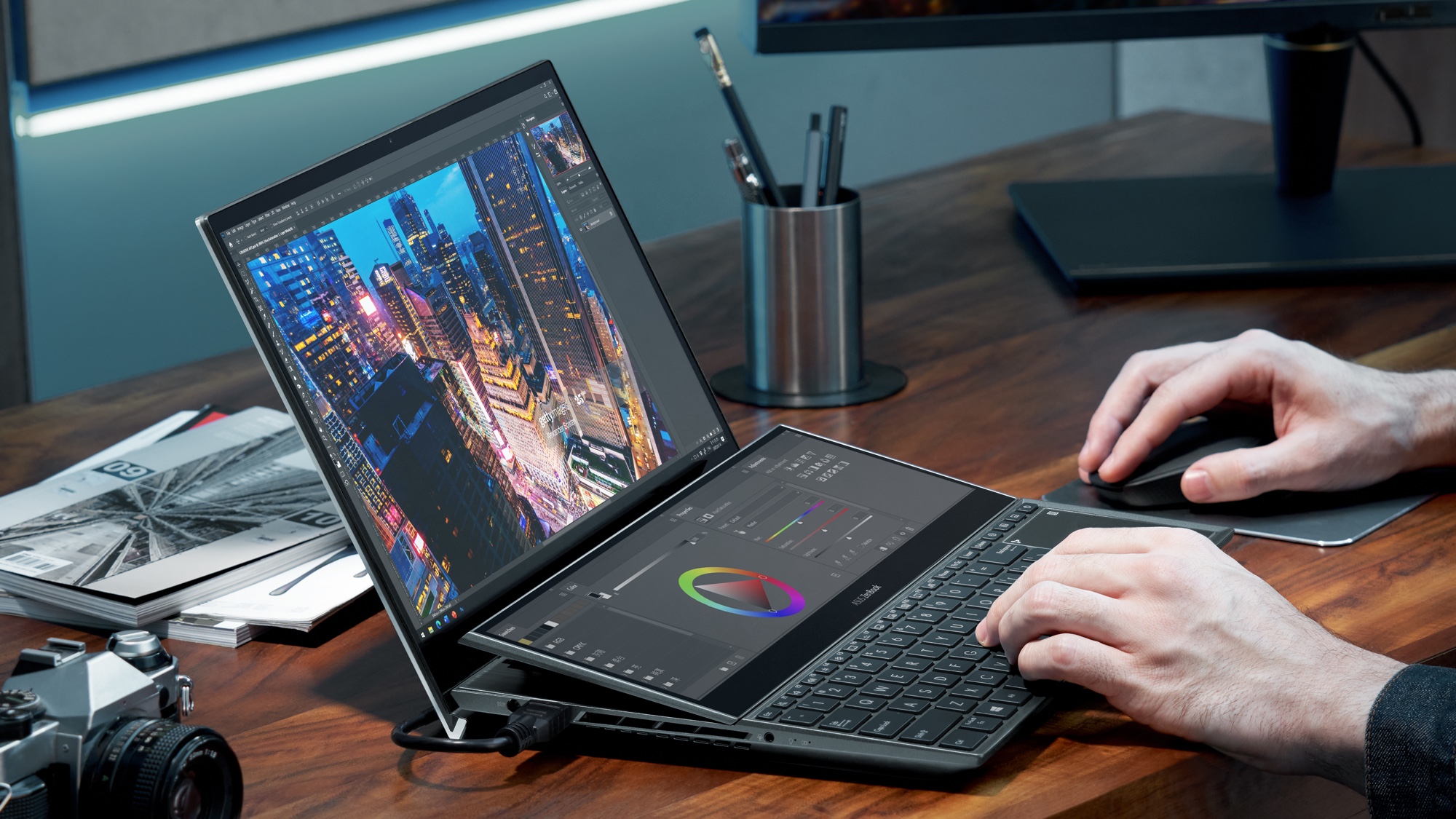 The top-of-the-line Asus Zenbook Pro Duo 15 OLED UX582 includes the following tech specs:
15.6-inch 3840×2160 OLED display

32GB DDR4 RAM

Secondary 14-inch 3840×1100 OLED matte display

1 TB PCIe 3.0 NVMe SSD

Intel Core i9-10980HK CPU

720p webcam

Nvidia GeForce RTX 3070

Asus pen with 4096 pressure levels

Backpack

Right side:

2x USB-C Thunderbolt 3, USB-A 3.2 Gen 2

Left side: HDMI 2.1, headphone jack
Dual-Screen Design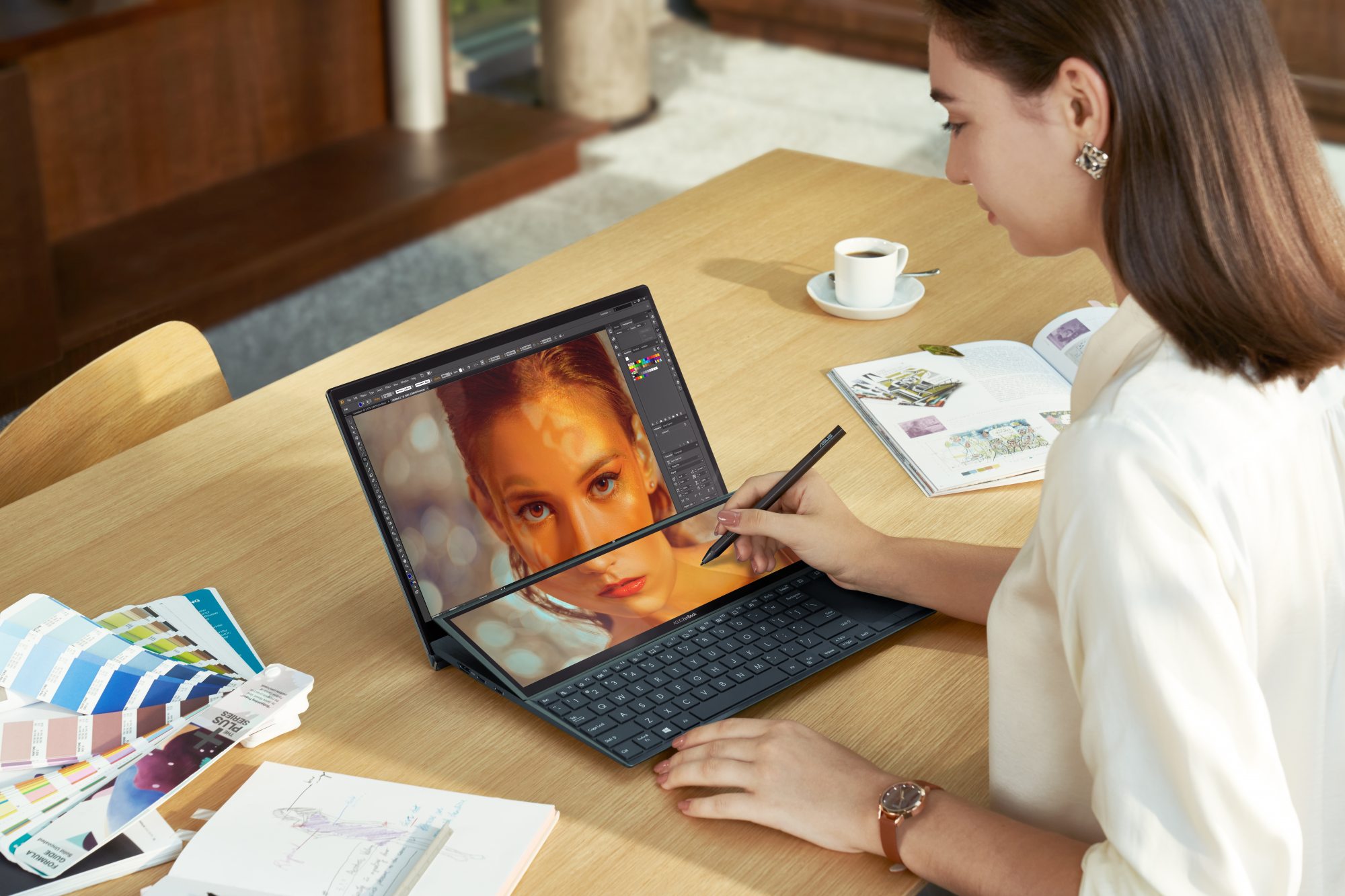 While the Zenbook Pro Duo isn't slim by any means, its 5.16-kilogram frame is lighter than you might expect given everything inside. It's green-blue in colour, with an aluminium lid whose swirling pattern extends out from the Asus logo off-centre. When you raise the lid, a pair of hinges support the back of the screen, making it easier to see and touch.
Asus is clearly proud of its work here. The Pro Duo's cardboard case design mimics the notebook's own design, which opens like a clamshell and lifts the notebook out of its container. The oversized power supply comes in its own gorgeous box.
The Pro Duo also comes with a range of accessories, including a headrest that slides onto the bottom edge of the notebook, an ergonomic stand that can be clipped to the back of the notebook, and a slim backpack.
Putting the Screens to Use
From the perspective of Windows 10, the Asus Pro Duo's lower screen – or ScreenPad Plus, as Asus calls it – is just a second monitor like any other. You can give it a taskbar, adjust the display scaling and drag windows back and forth at will.
That alone would make the Pro Duo more interesting than your average laptop. But the Pro Duo is the rare instance in which loaded vendor software is a welcome addition. By using Asus' ScreenPad Plus software, you can open up many new use cases that you won't get with a second monitor alone. Some examples:
Quickly flick windows between the two screens

Use the second screen as a gigantic trackpad

Use presets to arrange apps in a tiled layout across the two screens

Pop open a number pad that occupies the right half of the lower screen

Set up a panel of touch controls in certain Adobe apps, such as Photoshop
All of this involves a learning curve. Asus' various icons and menus aren't always intuitive and you might have to search online how to figure out how to load Asus' Adobe-optimized control panels.
Performance
Part of the Asus Zenbook Pro Duo's allure comes from its desktop-like tech specs, essentially giving you a portable PC workstation. Still, our benchmarks show that it doesn't quite keep up with other high-end gaming PCs, perhaps owing to the peculiarities of the dual-screen design.
Audio, Webcam and Security
Despite the price, Asus skimped on camera and security features. The webcam is the same somewhat fuzzy 720p camera you'll find on much cheaper laptops. While you can disable it with a keyboard shortcut, it lacks that physical shutter that some other high-end notebooks offer. The Zenbook Pro Duo supports face recognition for signing in but lacks a fingerprint reader, which is generally more reliable.
On the upside, the Harman Kardon-branded speakers are impressively loud. While they don't offer much base for music, high-end clarify is great for videoconferences and shredding through foes in your favorite first-person shooter. Microphone quality is excellent as well, producing rich vocals for your next audio call or twitch stream.
Let us know in the comment section how you like the Asus Zenbook Pro Duo 15 OLED UX582.